STARTERS
Henley's Supreme Quesadillas$10
Flour tortillas, cream cheese, spread with shredded jack cheese, grilled chicken, and bacon.
Cajun Truffles$10
Seven mushrooms stuffed with crab meat dressing and a cream sauce.
Fully Loaded Fries$12
Chicken, bacon, ketchup, parmesan cheese, american cheese, cream
sauce, and ranch dressing.
House Salad$4
Spring mix with tomato, feta cheese, American cheese and your choice of dressing.
Cajun Bread$13
Toasted and topped with parmesan & mozzarella cheeses, garlic butter, and red pepper flakes.
Oysters on the Half Shell
Market price.
Wishbone Sampler.
Generous portion of wings, ribs and chicken salad.
Tater Salad$3
Grilled Veggies$5
Fries$2
Cajun Rice$4
Potato Cakes$3
Dr. Taylor's Red Beans & Rice$5
Chicken Salad$5
Grilled Shrimp (6)$7
Crab Cakes$4
Grilled Chicken$4
Tilapia Fillet$4
Garlic Parmesan Broccoli$4
Monday$5
Gumbo
Tuesday$5
Veggie
Wednesday$5
Mexican Corn
Thursday$5
Purple Hull
Friday & Saturday$5
Collard Green Soup
DINNER SALADS
Grilled Salmon Salad$17
Black olives, mushrooms, feta cheese, and romaine lettuce, topped with grilled salmon and vinaigrette dressing.
Lemon Pepper Shrimp Salad$11
10 grilled shrimp on a bed of romaine lettuce, cheese, and cherry tomatoes, with a lemon pepper dressing.
Dr. Strickland Salad Salad$14
Low carb salad with broccoli, carrots, peppers, tomatoes, mushrooms, and low carb dressing.
Grilled Chicken Salad$9
Grilled chicken breast on shredded or romaine lettuce, feta cheese, and tomatoes.
ENTREÉS
Louis Armstrong$17
Grilled shrimp and scallops, sautéed peppers, mushrooms, cajun rice, feta cheese, with a slice of Texas toast
Stuffed Chicken Breast$15
Grilled chicken breast stuffed with cheese, spinach, cream cheese, and mushrooms. Served with broccoli spears and Cajun rice
The Bayou Classic$13
This five layer dish features cajun rice, crab cake, and cream sauce. Topped with cajun jumbo shrimp, and finished with spinach. Served with a side of Texas toast
Jeffrey Darden$13
Hashbrown casserole topped with grilled chicken breast, ham, and melted swiss cheese. Served with red beans and rice on the side, and a slice of Texas toast
Pasta Dinner
Rotini noodles, onions, mushrooms, andouille sausage, peppers, cream sauce, and topped with parmesan cheese. Served with your choice of chicken, shrimp, or both.
Chicken$15
Shrimp$18
Chicken & Shrimp$20
Blackened Tilapia Filet$10
A filet of Tilapia pan-seared and blackened over a bed of cajun rice served with Texas toast
Dozier's Kabobs and Cajun Rice$13
Seasoned chunks of grilled chicken, onions, and bell peppers over a bed of cajun rice served with Texas toast
Anthony's Special$12
Two tilapia filets with cream sauce and side salad
Grilled Salmon$19
Grilled salmon served over cajun rice, mixed with mushrooms and peppers. Served with a side salad and Texas toast
The "Jo Emily Michelle"$19
A light dish featuring salmon served over angel hair pasta, broccoli and mushrooms, tossed with basil and lemon sauce
Pasta Mardi Gras$20
Crawfish, shrimp, mushrooms, chicken, and sausage, served over angel hair pasta
Steak & Fries$20
Ribeye steak cooked to order served with homemade fries
THE WISH LIST
Pressed Brisket Sandwich$13
An ode to Matt Andress. Brisket served with peppers, mushrooms, Swiss cheese, special sauce and red beans & rice on ciabatta bread
Mr. Blount's Cuban$10
Spicy pork, smoked ham, swiss cheese, and Jamaican relish on authentic pressed Cuban bread. Served with chips and a pickle on the side
The Boardroom Burger$11
100% Angus beef burger stuffed with spinach and cream cheese, and topped with steak sauce and mayo. Served on cajun bread with homemade fries
Nita Moore's Salmon Croquette Sandwich$8
Grilled or baked Salmon croquette served with spicy mayo on Texas toast, with a side of tater salad
John Ed's Po Boy$10
Grilled cajun shrimp, Wishbone's special sauce & shredded lettuce, served on a wheat roll with homemade fries
The Smoker$8
Spicy pork grilled with Wishbone's BBQ sauce, dressed with Jamaican relish, served on Texas toast with a side of chips
Crab ClawsMarket Price
Crab claws, steamed and seasoned
Blue Plate Special$12
Changes weekly – please ask for featured special
Crawfish Julie$12
Crawfish Julie sauce with crawfish over cajun rice, and served with Texas toast
Riblet Plate$10
A generous portion of riblets with tater salad, a pickle, and Texas toast
Shrimp PlateHalf $11 Full $16
A half plate of shrimp served with any side item
JUST WHAT THE DOCTOR ORDERED
These doctors' favorites are the perfect cure for meal indecision.
Dr. Phillips' Grilled Chicken Breast Sandwich$9
Grilled chicken breast with lettuce, sliced tomatoes, mayo, served with tater salad and cherry peppers
on cajun bread
Dr. McIntyre's Cajun Greek Salad$14
Grilled chicken, jalapeno peppers, olives, mushrooms, and mozzarella, feta, and american cheeses, mixed with sweet peppers and greek vinaigrette, served on Texas toast
Dr. Sullivan's Chicken Salad$10
Chicken salad on a bed of lettuce, with sliced tomatoes, served on Texas toast
Dr. Lyon's Grilled Chicken Sandwich$10
Grilled chicken with swiss cheese, mayo, ketchup, bacon, served on Canjun bread with a side of fries
Dr. Underwood's Chicken Salad Sandwich$11
Served with tater salad and dessert
Coach Chapman's Combo$12
Soup, Chicken Salad Sandwich, and Drink
Kids Menu
Pasta & Cream Sauce$5
Grilled Chicken Bites$5
Grilled Cheese Sandwich$4
For our future leaders
Five Wings, fries, texas toast, and a drink $9
Chicken salad sandwich, chips, and a drink $9
Drinks
We offer a variety of drinks for your pleasure. Sodas, water, and you must try a glass of our famour Wishbone Cafe Signature Tea!$5
Gift Certificates
$10, $25, and $50$5
Wishbone Cafe To-Go
Take home some Wishbone Cafe favorites to your family and friends! Ask your server for more details.$5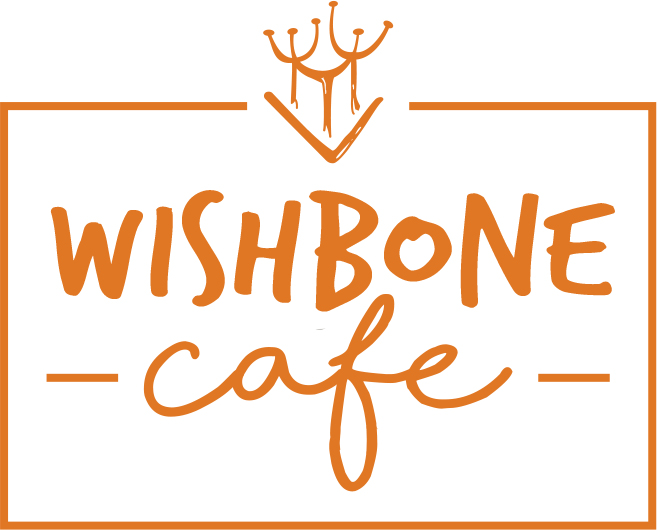 MENU • OUR STORY • CONTACT US • SHOP ONLINE
6667 Atlanta Highway, Montgomery, AL 36117
Call Us @ 334.244.7270